Are you superstitious? I am not, however, I am carrying a good luck object on the motorbike and I believe many a rider is doing exactly the same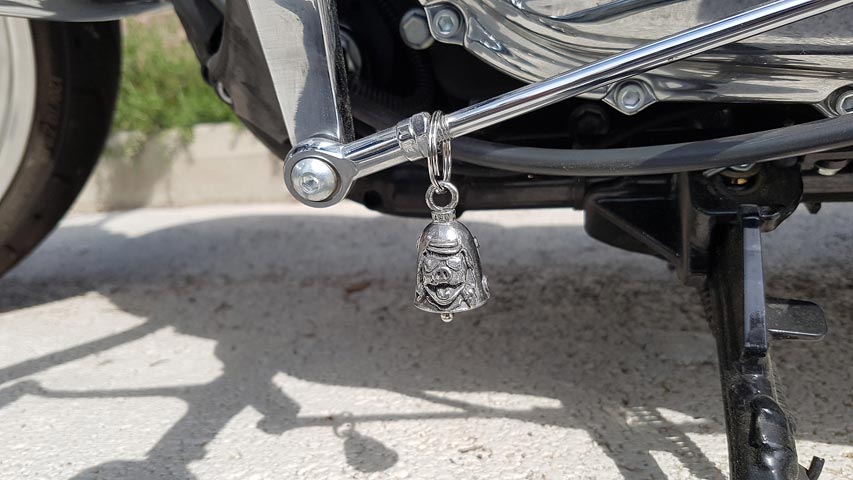 Extra Mile: TW200 Scrambler / Bobber
Nobody gets more romantic than a heavy metal band, ballad time…
The talisman most widely used is probably the guardian bel you can see in the picture above… well I don't know about you but it can save your life. Do you have one? I don't, I simply got another superstition of my own.
I know it sounds crazy, but despite the well known fact that superstitions do not work, believing in them can actually make them work. The placebo effect that makes us feel better and therefore we will thrive. Nothing like believing in yourself.
When I rode my Derbi Senda, 50cc of pure off road muscle, the sparkling plug was my biggest headache. Two-stroke engines tend to have issues as dirt, water or dust gets in.
That's the reason why I tied a bandana to the handlebar, so I had something to clean them a bit when the bike stopped (no more than once a week, top end technology).
Since then, and even riding four-stroke engines, I still have a bandana tied to my handlebars. I don't know… I can't figure out riding a bike of my own without it.
When I'm getting a new one, I always prepare the bandana and tie it once I know I'm keeping the bike.
Call it silly, but I feel a bit better when I can see and touch it. Especially when in bad weather conditions or in busy traffic.
All motorcycle celebrities have their own ones. Valentino Rossi instruct Dainese tailors to keep his leathers away from the floor, and my friend Johnny won't ride early in the  mornings, and he's not like me, he's an early bird!
You can see my lucky bandana on this pic, rotting, getting torn by the wind, but never untied since the very first day. That was the happy day I got into the dealership to ride home with it. I tied the bandana and the rest is history.
See you on the road!