Do you have a silly friend who would wheelie in the middle of a jam or someone who would ride on painted lines on the road when raining just like he was in perfect grip… we can all think of someone like that and they worst part is that they actually put us at risk. Here's how to deal with stupid.

Extra Mile: Stupid Motorbike Accidents
1.- Recognise Stupid
The average person can easily recognise a dumb guy. However; consider this, if you think absolutely everyone else is stupid, watch out, then it's you.
Once located please follow instructions below.
2.- Survive Stupid
If you are not the stupid one in the group, then you must find him or her (most probably a man).
Ride away from his crashing zone. When you crash you always drift to the exterior part of the corner, so try to avoid the areas where inertia would take rider and bike if possible.
Riding in front or behind doesn't protect you, you can get hit from behind or you can hit him when braking abruptly for no reason.
3.- Avoid Stupid Racing
When someone stupid thinks is in the middle of a race, there's nothing else you can tell or show him, he would only seek the podium.
It doesn't even matter obstacles or other riders, he would accelerate. Make sure you don't follow him.
3.- Stupid Riding Position When you see someone riding a bike in a strange way, that rider is a genius or stupid.
The chance is that it's easier to find stupid people than geniuses, so make sure you really get who you are riding with.
If you can't then the stupid is you.
4.- Don't imitate Pastrana Stupid
Travis Pastrana, Robbie Madison and all the stunt riders you can think of are not humans, they're superheroes, we're not. If you think you are… well you're really stupid then.
If someone at your group is going to attempt something like it which has never been done before, get away from him. Professionals use the foam pit hundreds of times before doing in on the roads or tracks.
5.- If you're not a biker don't touch a bike Stupid
Nothing more uncertain than a bike in inexperienced hands.
Some people who has never ridden or even be closed to a motorcycle think it's easy to ride or operate one. Reality is that you should never leave them approach a two wheeled machine if that's the case as there are some risks you can be facing.
But you can always be polite to stupid guys and greet them or for better, help them. But don't tell them as not only they won't believe you, but they will try to show you you are right, and they I think you both are a bit… yeah right, stupid.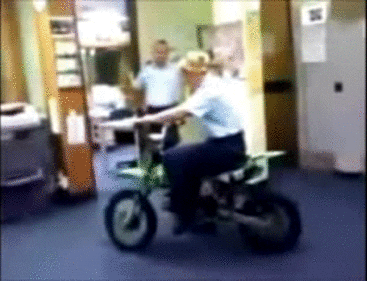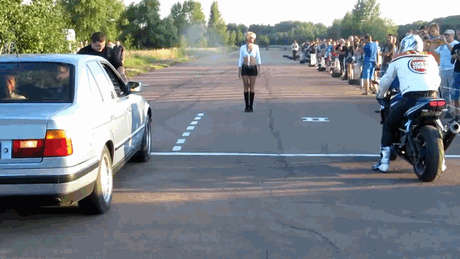 See you on the stupid roads you stupid friends, I hope you can forgive me for being stupid.